Office Servers
In addition to our Windows Servers, GPU Servers and Storage Servers we are proud to also provide traditional Office Servers to do the basic operations that will control your business network.
We can offer simple File Servers, Domain and Email Servers, Web Servers and Network protection solutions.
As a bespoke manufacturer out technicians can provide any of these options using Microsoft Windows® or Linux* operating systems and any server hardware you require.
We have long term relationships with multiple manufacturers and distributors so we can provide fully custom systems or just modify off-the shelf systems to suit your needs.
With the whole market available to us we can provide solutions that will fit on your desk or we can provide whole racks of servers and all the infrastructure products to go with it. We can provide network switches, antivirus and firewall solutions, backup solutions and any software you need.
For smaller businesses we can even come to site to install the server for you at a fixed cost.
Here are some example popular server configurations: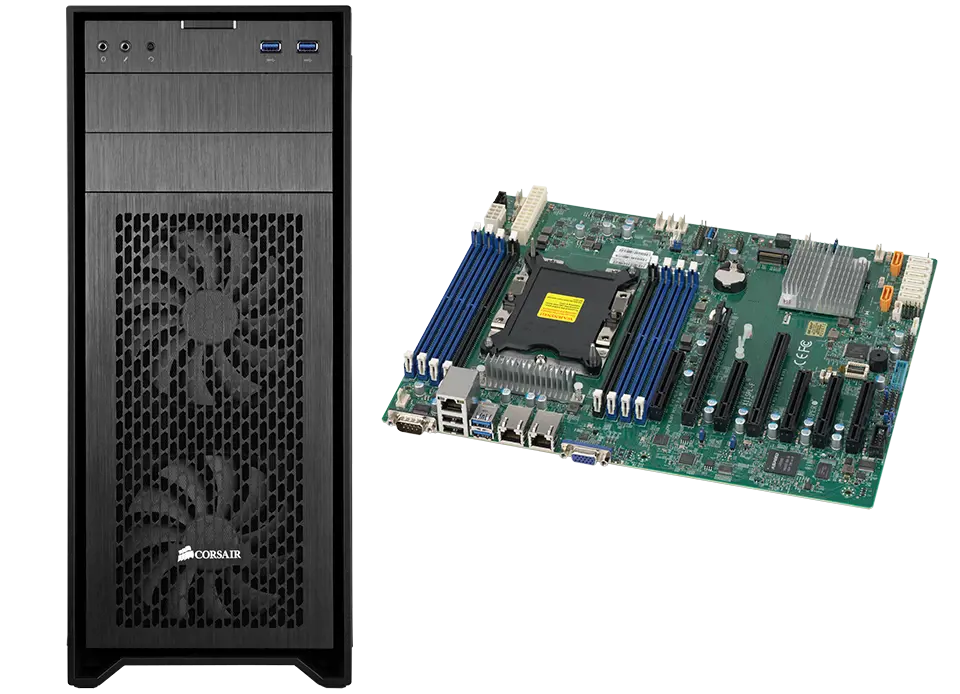 UPDOM – our Single Processor Domain Server
Single Intel® Xeon™ Silver Processor

Supermicro* X12SPL-F Server Board

32GB DDR4-3200 ECC Registered Memory

2x 240GB Intel® SSD S4510 in RAID 1

Dual Gigabit Ethernet connection

Phanteks Chassis

Corsair 650W Power Supply

Remote Management to allow remote access

Microsoft* Windows Server 2022 Standard

DPDOME – our Dual Processor Domain and Email Server
Intel® Server System M20NTP1UR304
Dual Intel® Xeon™ Silver Processor
64GB DDR4-3200 ECC Registered Memory
Dual 240GB Intel® SSD S4510 in RAID 1
Dual 4TB Seagate Ironwolf Pro SATA Hard Drive in RAID 1
Dual Intel® 10 Gigabit Ethernet
Dual 750W Redundant Power Supply
Remote Management module to allow remote access
Microsoft* Windows Server 2022 Standard
Microsoft* Exchange Online Plan 1